Drawer Box Specifications
Begin by choosing from a broad selection of materials including but not limited to most species of solid woods such as CCF's select cuts of Soft and Hard Maple, Beech, Poplar, Red Oak and White Oak. Also available is Baltic Birch and Ultrafoil Melamine.
Then select from a variety of custom options like Personalized Laser Engraving, Edge-Banding, Front and Side Scoops, File Slots with or without Bars, Undermount Drawer Slide Notching, and Quality Drawer Slides from KV Sidemount and Blum. Provide us with your specifications, place your order and let CCF's craftsmen create a custom drawer to complement your cabinetry or furniture.
Since 1995, CCF Industries has made a commitment to provide a quality, custom drawer like no other. Our detailed craftsmanship and cutting-edge technology has enabled us to remain in the forefront of the drawer industry. CCF continuously strives to provide new and exciting features to its products.
1/4″, 3/8″ and 1/2″ bottoms available
3/8″ Recess Standard
1/2″ for Undermount Slides
1/4″ also available
All Top Edges Eased Thumbnail
Flat and Flush (additional charges apply)
Edge Banding
Notching out the back of the drawer for undermount slides is available
Pre installing locking devices is also an option
Inside of drawer has 2 coats UV finish and the outside is sanded & finished after assembly for a complete look and feel.
Assembly / Finishing Methods
Finished or Unfinished
Assembled or Knocked down
Custom Width/Depth/Height
2″ Through 23″ in Height Available
Width, Depth, and Height
All Custom to Your Needs
Quantity Discounts Available
Joinery - Dovetailed or Dowel & Bore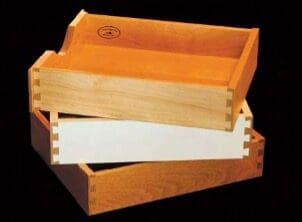 Dovetail Joints:
The tails & pins created in a dovetail joint construction adds a sense of style and strength to the drawer box.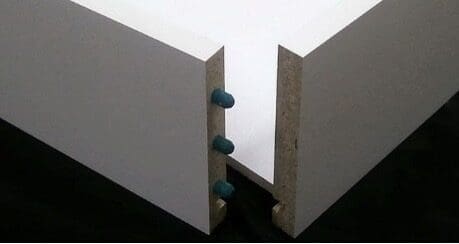 Doweled Joints:
Pre glued dowel pins are installed inside the connecting drawer panels, making them invisible. This joint is mostly used for melamine.
At CCF Industries we were one of the first to pioneer personalization of our drawer box with laser engraving. This allows us to engrave your artwork/logo into one of our many drawers or specialty items. You can also purchase individual promotional items. Contact us for laser specs. (additional charge if art is not on file).
CCF's laser engraving not only personalizes your drawers but it also helps market your business. Our hands-on craftsmen give each drawer the finish you expect and the quality you demand.